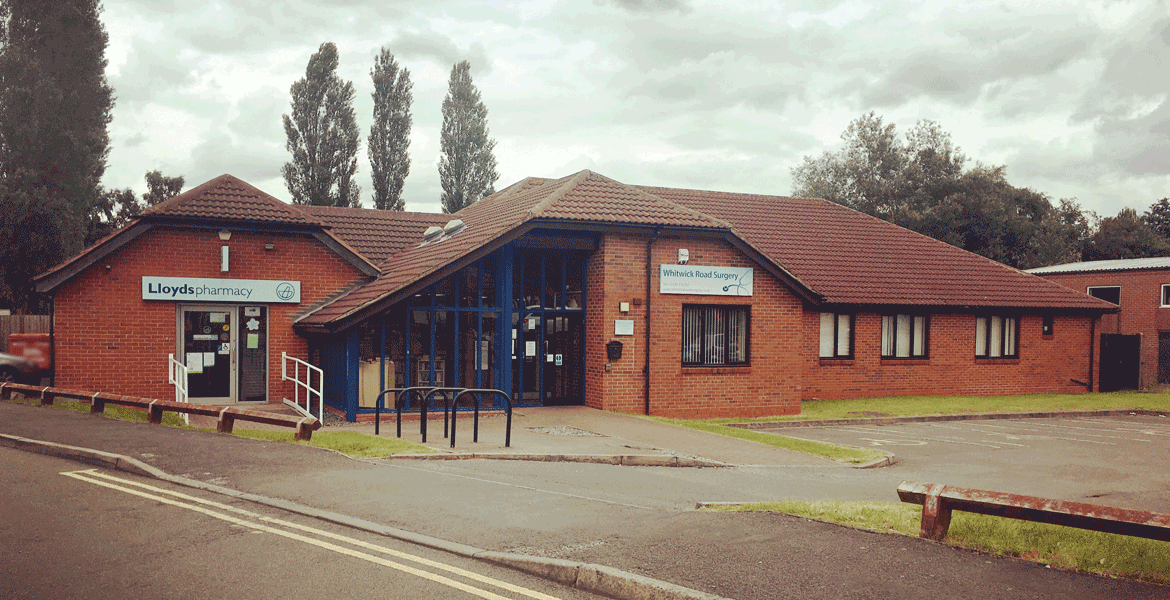 Whitwick Road Surgery
Whitwick Road, Coalville, LE67 3FA
Current time is 19:06 - Sorry, we're currently closed. Please call NHS 111
Telephone: 01530 836507
whitwickrd.surgery@nhs.net
Local Area
Events happening in the local area:
Chocolate Crafts Next Steps Online 02/04/22 x 2 weeks
Saturday Crafts Coalville Library 02/04/22
Theatre skills Hinckley Holy Trinity Church 08/04/22
Fused Glass Saturday Coalville Library 09/04
FREE Introduction to Work Skills Hinckley Library
Pottery Workshop Groby Community College From 25/04/22
British Sign Language Basics Online 26/04 x 4 weeks
FREE Learning for Confidence and better Mental Health Coalville & Hinckley Libraries & online
Italian Beginners A Taster Coalville Library & Ashby Library From 26/04/22
FREE Online CV update and Application Form support Online flexi start
Digital Skills Qualification ITQ Level 2 Online flexible start dates
FREE English and Maths Functional skills/GCSE Coalville & Hinckley & Online
Spanish Beginners Part 1 Hinckley Library 26/04/22 –
ESOL various levels Coalville & Hinckley Libraries & Online
Fused glass workshop Coalville Library 26/04/22
Yoga – Mixed level Hinckley Library 27/04/22
Simple Baking Online 27/04/22 x 3 weeks
FREE PRENATAL Yoga 3rd Trimester Coalville Library 27/04/22
FREE PRENATAL Yoga 2nd Trimester Hinckley Library 27/04/22
Family Storytime FREE Coalville Library from 27/04/22
FREE Maths, Develop numeracy skills Hinckley Library 27/04/22
Job Applications online 27/04/22
Patchwork & Quilting Workshop Coalville Resource Centre 28/04/22
Drawing & Painting Mixed level Online & Coalville Resource Centre 28/04/22
Drawing & Painting Get Started George Ward centre Barwell 28/04/22
Life Drawing & Painting – Mixed Level Coalville Resource Centre 29/04/22
Crafty Carers is every Thursday at 11-12.30 and has some great activities this month on Zoom:
7th – Easter Crafts,
14th – Easter Crafts,
21st – Let's look at Picasso,
28th – Button Art Creations
Monthly in person Crafty Carers sessions  at the Loughborough Wellbeing Centre Wednesday 20th April – 10.30 – 12.00.
County Carers: Weekly Sessions at Loughborough Wellbeing Centre
Wednesdays 10.30 – 12.00
6th – Managing Carer Stress
13th – Carers Cuppa & Drop In
20th – Crafty Carers and Drop in session
27th – Carers Cuppa & Drop In
Carers Caring For Carers: Staying Well Together. Meet other carers and try out one of our health and wellbeing activities, all led by professional tutors in small, welcoming groups.
Mon 4th – 10.45 – 12.00 Mindfulness
Thur 7th – 1.00 -2.30pm Poetry Prescribing
in person, meeting at Soft Touch Arts in Leicester City.
Mon 11th – 10.45 – 12.00 Tai Chi
Wed 20th – 10.15 – 12.00 Drama Group
Mon 25th – 10.45 – 12.00 Tai Chi
Monday 11th 2.00 – 3.00 on Zoom
Information Session with Life Links 'Stress Awareness'
New Mindfulness Meditation Sessions at Measham Library – Click here for more information.
Right Track  Step it up programme –  Click here for more information.
Sense Valley walk with Roger have started again on first Thursdays of the month please contact the surgery and ask for Leighan for further details.
New veterans wellbeing hub starting in Loughborough open to all veterans across Leicestershire Fridays 10 – 1 Asha House LE11 2TZ
Bardon St Peter's Church –  there is a Gardening Club every Wednesday from 9.30am
Ravenstone – Muddy Church the first Sunday of every month 11am-12pm meeting at St. Michael's Ravenstone. All ages welcome but come prepared for any weather and muddy boots!
For more information please contact:
Vicky Utting
07534263203
Team Leader for North West Leicestershire and Charnwood
Local Area Coordinator for Coalville
Public Health