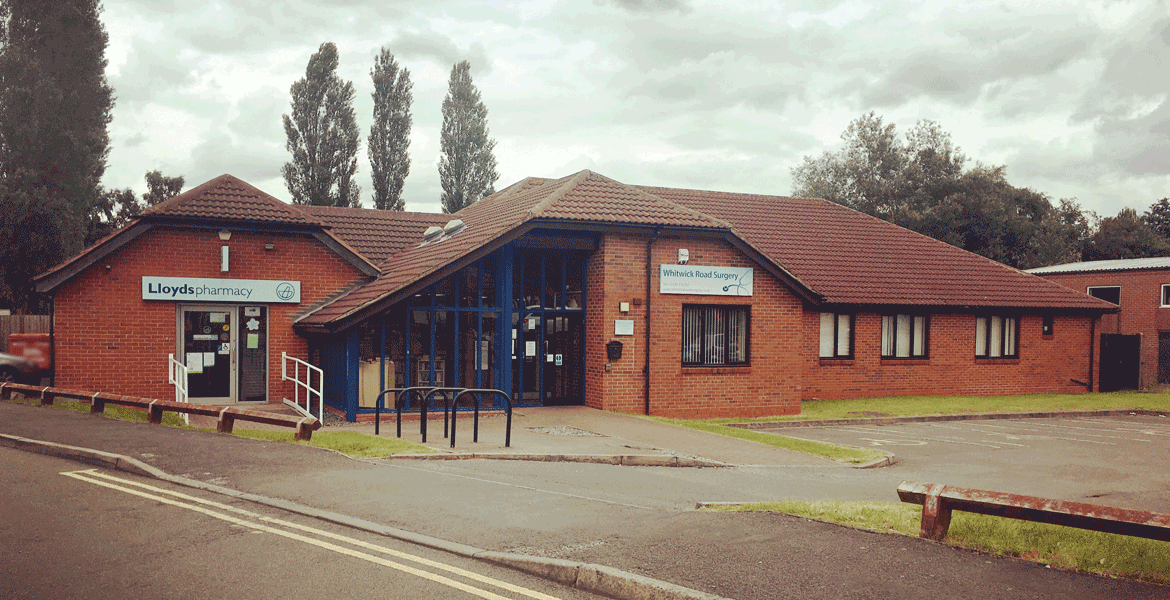 Whitwick Road Surgery
Whitwick Road, Coalville, LE67 3FA
Current time is 18:15 - Sorry, we're currently closed. Please call NHS 111
Telephone: 01530 836507
whitwickrd.surgery@nhs.net
Minor Health Issues
Sometimes GP practices will directly refer patients to their community pharmacist for appropriate health conditions, through the Community Pharmacist Consultation Service.  Once a patient has been referred, the pharmacist contacts them for a face to face, phone or video consultation, and the outcome of this is reported back to the GP practice so that they can see exactly what has been recommended, any treatment given and it all goes on the patient's record.
If for some reason the patient needs more support, the GP practice picks it back up and arranges for the patient to be seen by another member of the practice team. This saves the patient having to make multiple calls for support and frees up time for GPs to see patients with the most complex needs. Following a protocol our Doctors have designed, our clinical co-ordinators may triage you to a pharmacy if this is appropriate.
A Pharmacist can help you with all the following minor health issues:
acne
allergic reactions
ankle/foot pain,
arm pain
athletes foot
bites/stings
blisters
cold and flu
constipation
diarrhoea
earache
simple eye concerns (e.g. conjunctivitis)
hair loss
headache
hip/thigh/buttock pain
lower back pain
lower limb pain or swelling
mouth ulcers
rectal pain/swelling/lump or itch
shoulder pain
skin rashes
sleep difficulties
sore throat
hoarse voice
tiredness (fatigue)
toe pain/swelling
vaginal discharge
vomiting
wound problems – management of dressings wrist/hand/finger pain
You can prsent yourself at any pharmacy with any of the above conditions or our clinical co-ordinators can refer you for an initial telephone call with a Pharmacist. 
Our Local Pharmacies:
Boots Chemists – Belvoir Shopping Centre – Tel: 01530 832313
Co-operative Chemist – Broom Leys Road – Tel: 01530 814161
Co-operative Chemist – Long Lane, Coalville – Tel: 01530 834588
Lloyds Pharmacy – Whitwich Road (attached to surgery) – Tel: 01530 835629
Masons & Sons – Belvoir Road, Coalville – Tel: 01530 812182
Masons & Sons – North Street, Whitwick – Tel: 01530 510971
Late Evening & Weekend Chemists
Tesco Superstore – Ashby de la Zouch Tel: 01215 191392
Sainsbury's Supermarket – Loughborough Tel: 01509 212313