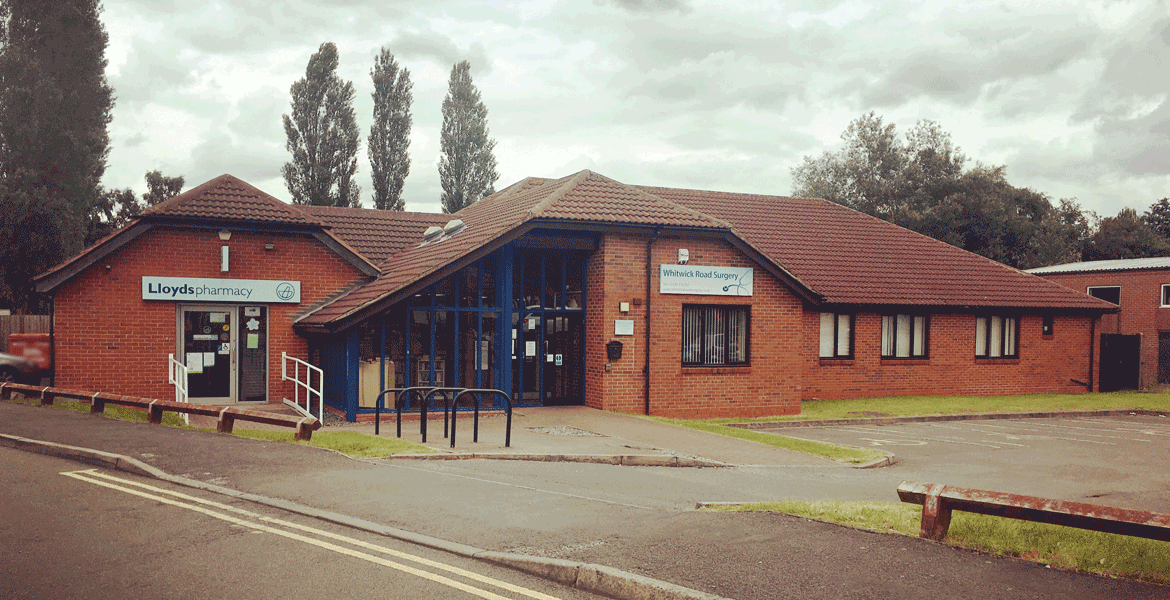 Whitwick Road Surgery
Whitwick Road, Coalville, LE67 3FA
Current time is 17:31 - Sorry, we're currently closed. Please call NHS 111
Telephone: 01530 836507
whitwickrd.surgery@nhs.net
Practice Staff – Clinical
We have many clinicians here at Whitwick Road Surgery who all deal with different medical complaints.
It's important to understand how your GP practice works and all the patient care they can offer you. As a patient, you are one of many (we have over 7,000 patients) the practice looks after and the doctors must prioritise and triage your complaint accordingly.
By informing our clinical co-ordinator of your medical complaint when booking an appointment, they can triage you to the most appropriate member of our team for support, giving you the best care possible. All our clinical co-ordinators have received training in triage designed by Dr Searancke and Dr Chawda.
Below is all our clinicians and what medical complaints they can support you with:
Doctors:
Dr Nilesh Chawda (partner) BSc MB ChB MRCGP DRCOG. Joined the practice 1995.
Dr Melissa Searancke (partner) MB ChB DFFP DRCOG. Joined the practice 2008.
Dr Mahmood – Salaried GP – MBChB MRCGP DRCOG BSc
General practitioners (GPs) treat all common medical conditions and refer patients to hospitals and other medical services for urgent and specialist treatment. They focus on the health of the whole person combining physical, psychological, and social aspects of care.
You will be triaged to a GP if you have a complex medical complaint, mental health complaint, require urgent treatment, chronic conditions, complex medication reviews and many more. 
Advanced Nurse Practitioner:
Emma

An Advanced Nurse Practitioner (ANP) is an experienced and highly educated experienced Registered Nurse who works closely alongside with our GP's.

Emma previously worked at the local urgent care centre and specialises in urgent acute care.

You may be triaged to our Advance Nurse Practitioner if you have any of the following minor illnesses:

chest infections
ear infections
tonsilitis
urine infections
nail infections
complex thrush
complex cellulitis
cyst
emergency contraception
severe rashes
abnormal lumps
fall related injuries
severe pains
burns
In-house Physiotherapist: Salim
A physiotherapist can provide education and advice, pain relief medication, organise scans such as X-Rays and Ultrasounds, organise referrals for further care, provide movement tailored exercise and physical activity advice.
You will be triaged to our Physiotherapist for support with bones, joints and soft tissue complaints – such as back pain, neck pain, shoulder pain and sports injuries.
In-house Pharmacist: Laura
Clinical pharmacists are increasingly working as part of general practice teams. They are highly qualified experts in medicines and can help people in a range of ways. This includes carrying out structured medication reviews for patients with ongoing health problems and improving patient safety. If you are due a routine medication review or have medication concerns, you may be triaged to our pharmacist.
In-house Paramedics: Martin, Gary, and Graham
Paramedics work in a variety of roles within general practice. Their background in pre-hospital care means that they are used to working with people with a variety of health conditions – from coughs and minor injuries to more serious conditions such as asthma.
You may be triaged to our Paramedic if you have any of the following acute minor illnesses if over the counter treatment from a pharmacy or supermarket has failed (see below for over-the-counter treatment details):
all limbs pain
any acute injury (e.g., a fall)
severe athletes' foot
cold and flu (we strongly recommend a PCR test before contacting us for treatment if symptomatic of COVID19)
severe constipation
severe diarrhoea,
severe ear pain (e.g., red, inflamed, leaking)
eye concerns (e.g., conjunctivitis),
hair loss
severe headache
ulcers
severe acute skin rashes
sore throat (we strongly recommend a PCR test before contacting us for treatment if symptomatic of COVID19)
hoarse voice ((we strongly recommend a PCR test before contacting us for treatment if symptomatic of COVID19)
severe tiredness
toe pain/swelling (e.g., red, inflamed, leaking)
vaginal discharge
severe vomiting
Nurses:
Hayley – Lead Nurse at the practice.
Helen – Nurse at the practice.
Susan – Health Care Assistant at the practice.
Jane – Phlebotomist.
General practice nurses work in GP surgeries as part of the primary healthcare team. Different types of Nurses offer different types of appointments. These include:
Blood tests
Blood Pressure checks
Dietary Advice
Ear Syringing
Holiday Vaccination
Wound Care
Pill Check
Removal of stitches
Swabs
Chronic Illness Reviews (including Asthma, COPD, Stroke, Learning Disabilities)
And many more. Most Nurses appointment require a request from the GP or an invitation from the Practice.
Community Pharmacies: Masons, Lloyds, Boots, Listers and Well Pharmacy. 
Pharmacists Pharmacists are experts in medicines who can help you with minor health concerns. As qualified healthcare professionals, they can offer clinical advice and over-the-counter medicines for a range of minor illnesses, such as coughs, colds, sore throats, tummy trouble and aches and pains.
You may be triaged to a pharmacy if you have any of the following minor illnesses:
acne
allergic reactions
ankle/foot pain,
arm pain
athletes' foot
bites/stings
blisters
cold and flu
constipation
diarrhoea
earache
simple eye concerns (e.g., conjunctivitis)
hair loss
headache
hip/thigh/buttock pain
lower back pain
lower limb pain or swelling
mouth ulcers
rectal pain/swelling/lump or itch
shoulder pain
skin rashes
sleep difficulties
sore throat
hoarse voice
tiredness (fatigue)
toe pain/swelling
vaginal discharge
vomiting
wound problems – management of dressings wrist/hand/finger pain
You can present yourself at any pharmacy with any of the above conditions or our clinical co-ordinators can refer you for an initial telephone call with a pharmacist. 
Attached Staff (not based at the surgery but may regularly visit) 
Mental Health Facilitator – Accessed by referral only (if you require mental health support, please contact us).
Diabetic Specialist – Caroline Byard (Accessed through Hayley, our diabetic specialist Nurse only)
District Nurse – 0300 300 7777
Midwife- 0116 258 6060
Health Visitor – 01530 468602