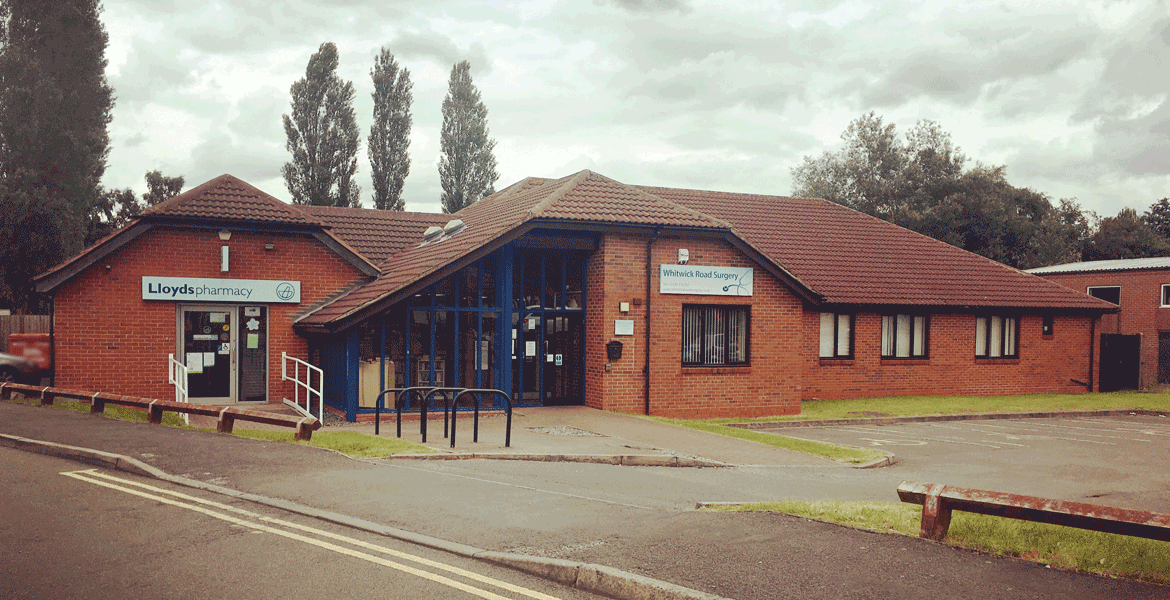 Whitwick Road Surgery
Whitwick Road, Coalville, LE67 3FA
Current time is 17:39 - Sorry, we're currently closed. Please call NHS 111
Telephone: 01530 836507
whitwickrd.surgery@nhs.net
Appointments
Appointments
All appointments procedures have been altered during the COVID-19 Pandemic. Please be mindful of this when booking your appointment.
Routine Appointments 
All Doctors' appointments are made by telephoning the surgery in the morning between 8.00 and 8.30am on the day you wish to be seen. These appointments are on a first come first served basis, so it is advisable to ring early to avoid disappointment.
The clinical coordinators will ask you a set of questions to ensure you are directed to the appropriate clinician or service when making this appointment.   This is to help patients access the right care at the earliest opportunity. It is a new system of 'triage', carried out at the first point of contact with the GP Practice by non-clinical staff under direction of Dr Searancke and Dr Chawda.
We have many clinicians within the practice, including Doctors, Advance Nurse Practitioners, Pharmacists, Paramedics, Physiotherapists and more. Triaging allows us to ensure your complaint is managed by the best clinician.
Patients should not need appointments for ordering a repeat prescription, a sick note, requesting a medical report, chasing an existing referral or any dental issues. If you book an appointment for one of these issues the doctor will refuse to do any of the above.
The practice will endeavour to give patients an appointment with the doctor of their choice, but this is not always possible. If you wish to see a particular doctor the receptionist can tell you when that doctor is on duty and prebook an appointment if requested.
Appointments for the Nurses are made in advance.
Telephone Consultations
We now offer telephone consultations each morning. These are for matters that you feel can be dealt with over the telephone without the need to attend the surgery. These can pre booked in advance or on the day by ringing before 8.30am.
We will ask you for a phone number and give you a slot time of morning or afternoon. The doctor will ring you back on the given number when they are able to.
Emergency Appointments
Our practice offers Emergency Appointments both in the morning and afternoon however these are for emergencies only. Only you can determine if you are experiencing a medical emergency or not. As a practice we would class a medical emergency as something that needs to be dealt with within 6 hours and cannot under any circumstances wait until the next day. If you attend an emergency appointment a receptionist will give you a time and you must be able to make that time. If you attend an emergency appointment and the GP does not class, this appointment as an emergency they will ask you to leave and ring at 8am the next day.
Pre-Bookable Appointments
For non-urgent and routine matters such as medication reviews, our Doctors have some reserved appointments for pre-booking. They have a few select pre-bookable appointments morning and afternoon for each doctor and may be booked up to one month in advance.
Cancelling Appointments
It is the responsibility of the patient to attend appointments made with the surgery and to cancel any no longer required.
Missed appointments are a serious waste of resources to the NHS and the surgery.
We are actively trying to address this problem by keeping records of missed appointments. Persistent offenders are sent a letter bringing the matter to their attention and may even be removed from our list as a last resort if the situation does not improve.
Not attending appointments:
Due to the high number of appointments that aren't attended by patients we have now introduced a 'DNA system'. Persistent offenders are sent a letter bringing the matter to their attention and may even be removed from our list as a last resort if the situation does not improve.
If you are unable to make an appointment, please call reception to inform them of this as soon as possible.